Facilities
Hardware

Digital Earth Room:A room equipped with multi-screen (large screen consisted of 15 displays (55in. Full-high vision) with 8 digital I/O and 16 analogue I/O) to support evidence-based deliberate discussion. Digital white board, multi-touch digital table, plotter, and 3D printer are installed as well. There are several HDMI/VGA terminals which are connected to the multi-screen. By using this terminals and multi-screen, four groups can share their information on the screen and have a discussion. Additionally, support services for setting up the maps with related spatial information, screen operation are also provided.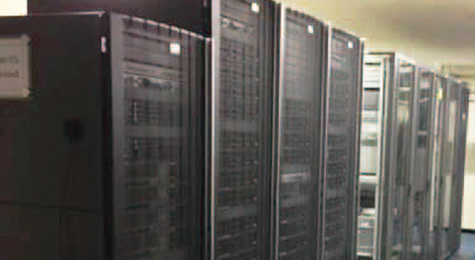 Digital Earth Servers:Servers with GPU processing service, Web service, large size storages. Server spaces can be provided when required.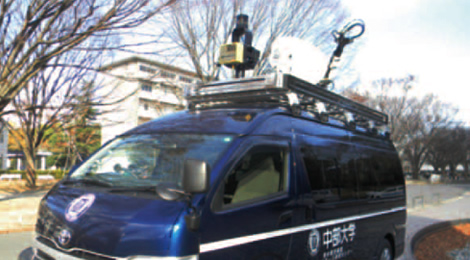 UAVs:Various UAVs with several camera types (both copter types and fix-winged types).

Risk Monitoring/Management Vehicle:4WD vehicle with 360°degree camera, satellite-based internet connection, plotter, generator.
---
Software
ソフトウェア
IBM SPSS Statistics Base
ArcGIS for Desktop Advanced 及びエクステンション

ArcGIS Spatial Analyst
ArcGIS 3D Analysit
ArcGIS Network Analyst
ArcGIS Tracking Analyst
ArcGIS Geostatistical Analyst
ArcGIS Schematics
ArcGIS Publisher
Data Interoperability
各種空間データ
DATASECTION Inc. ソーシャルメディア蓄積・分析情報
ArcGIS データコレクション 2014 スタンダードパック

広域地図(ゼンリン地図データ、国交省国土数値情報、国土地理院基盤地図情報)
公共地図(国土地理院数値地図、国土地理院基盤地図情報、国交省国土数値情報、街区レベル位置参照情報、大字・町丁目レベル位置参照情報)
街区レベル住所(街区レベル位置参照情報、大字・町丁目レベル位置参照情報、国交省国土数値情報、平成22年国勢調査 町丁・字等別集計)
基本統計

平成22年国勢調査(総務省統計局)
平成21年経済センサス 基礎調査(総務省統計局)
平成17年国勢調査、平成18年事業所・企業統計調査(総務省統計局)
平成13・20・22年交通流動量(国土交通省国土政策局)
平成18・21年土地利用細分メッシュ(国土交通省国土政策局)
平成21年都市土地利用細分メッシュ(国土交通省国土政策局)
平成23年駅別乗降客数(国土交通省国土政策局)
平成23年用途地域(国土交通省国土政策局)
平成19-25年都道府県地価調査(国土交通省国土政策局)
平成19-25年地価公示(国土交通省国土政策局)

ArcGIS データコレクション 詳細地図 中部地方版
ArcGIS データコレクション 道路網2015中部北陸地方版
JPS 平成22年国勢調査100mメッシュ推計データ全指標 全国版
ゼンリン 建物統計データ 行政区分地図対応 愛知県
ゼンリン 行政区分地図データ 愛知県
地形データ(SRTM、5m メッシュ、10m メッシュ)
春日井市 GeoEye-1 画像(2012年撮影)
春日井市航空写真(1962、68、74、76、82、85 年)
気象業務支援センター 気象情報(2015年10月13日以降現在まで

局地数値予報モデルGPV(LFM)
日本近海海流予報格子点資料
高解像度降水ナウキャスト
土砂災害警戒判定メッシュ情報
土壌雨量指数
流域雨量指数

中部大学地震電磁波観測ネットワークで観測されたULF/ELF帯電磁波観測データ